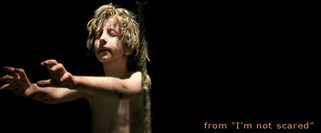 The film I'm not scared by Gabriele Salvatores, based on the book I'm not scared by Nicolò Ammaniti, give us beautifull pictures of what it means to approach the shadow.
In all of us there is a part of our personality that is hidden, in a shadow. And if we don't listen to it and don't nourish it, it becomes increasingly hungry.

We can read this story as if the characters were parts of a single entity, us watching the film.
This interpretation of the film does not want to analyze the role of adults and how Michael knows how to teach them something, it would have needed much more space. My interpretation wants to emphasize that, when you approach the shadow, you can gain new energies, more spontaneity and more freedom. Often, in moments of crisis of our lives, we do not find the solution in our conscious part, lit, full of certainties, but rather starting from doubt, from the mud, from the dark, from what troubles us.
Paola Palmiotto
---
---
Clicking on the images you can see them enlarged

---
© 2015 Paola Palmiotto - All rights reserved